Mr. R H O D E S A N D Mr. T H O M A S
BIOGRAPHY OF JOHN J. K. RHODES (1903-1985)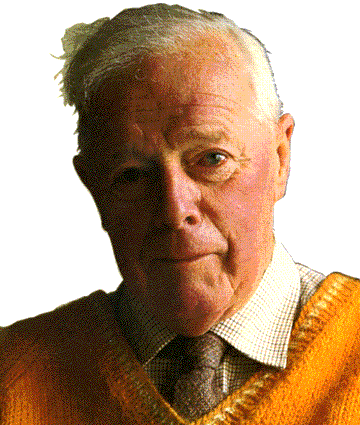 John James Kenworthy Rhodes was born in 1903, the son of Oliver Rhodes and of Leah nee Kenworthy in Blackpool. His mother was American, though her family originally came from Delph, a small village near Oldham on the border of Yorkshire and Lancashire. Her family was in the textile machinery business, designing and manufacturing spinning and weaving machines. During the American Civil War the family business provided army uniforms, an enterprise which made it quite well off.
John's father started in business with a man called Young, but bought him out and moved the ironmongers' shop to where the rest of the family had shops in Blackpool. In Mr Rhodes' tool shop John became infected (like his father) with a love of tools, and how to use them correctly. His father had a weak heart and took early retirement (having sold his commitment to the shop) and moved the whole family to Bolton-le-Sands a small village some three miles north of Lancaster. John had a brother and three sisters and all his siblings enjoyed using their hands.
John went to the Lancaster Royal Grammar School and took to academic work like a fish to water. His interests were incredibly catholic stretching from botany to physics and from history to geology. However John had an inbuilt dislike of sport, absenting himself from such activities whenever possible to pursue some academic interests. John at quite a young age received music lessons from the local organist. In 1922 he went to Cambridge (Peterhouse) to read Physics under the instructions of Dr G.F.C. Searle FRS, a tutor who had a profound effect on his student. During his undergraduate studies John attended a number of concerts one of which, given by members of the Dolmetsch family - on copies of baroque instruments - left its imprint on John. In fact John did meet Arnold Dolmetsch and saw and heard a number of clavichords and harpsichords made in Arnold Dolmetsch's workshop. In 1924, at one of the Musical Society's meetings, John Rhodes met William Thomas (also an undergraduate at the University). In fact John had been a member of that Society for some time, and Thomas was the new boy. Their first meeting occurred when William sitting on a table was holding forth on some matter, and John joined in the discussion.
After leaving Cambridge, John joined the firm of Taylor, Taylor and Hobson (in Leicester) who were optical instrument designers and manufacturers. Also working in Leicester at that time was William Thomas' older brother and he helped to reconnect John Rhodes with William Thomas. John, whilst working in Leicester, equipped a workshop to make musical instruments and gramophone records. From 1928 onwards he made several 'acoustic gramophone records'. His first keyboard instrument - a clavichord - was completed in 1930. William Thomas joined him at the workshop for short periods and during his holidays, and their first combined instrument was a spinet completed in 1932.
From that time onwards they built a number of keyboard instruments together. John actually designed a new jack for plucking the strings on harpsichords, and had this invention patented in 1934. Instruments designed and made by Rhodes and Thomas were exhibited at the Arts and Crafts Exhibition Society Shows between 1937 and 1962.
John first became a temporary, later a permanent Civil Servant and was employed on research and development for the Ministry of Aircraft Production. He became particularly interested in paints, and their adhesive and protective qualities. In his final years, as a Government Scientist, he was working on covering materials to protect the Spacecraft Ariel III from solar absorption, radiation loss and particularly on inhibiting the degradation effects of ultra violet light on the rocket.
From 1946 until his retirement in 1969 John would spend all available time helping his friend William to build by hand, Easterheughs in Fife, a facsimile of a seventeenth-century Scottish Tower House. Much of the material used in the building was salvaged locally, quite a lot of it from the demolished Rossend Castle. (Quite a good article on Easterheughs appeared in the magazine The World of Interiors, (October, 1985) p.170). John would come up from London by train on many a Friday and return on Sunday nights by sleeper, having put in a week-end's hard physical work on Easterheughs. In 1969 John moved up from London to Fife to devote more time to instrument making, restoring and writing about antique instruments, continuing the never-ending work on the Tower House, attending concerts and looking lovingly after their wonderful, south-facing garden overlooking the Firth of Forth.
Their architectural knowledge and first-hand experience in building and the use of seventeenth-and eighteenth-century materials, on top of their intimate knowledge of early keyboard instruments made them invaluable advisers to the University of Edinburgh when the restoration work was undertaken on St Cecilia's Hall to house the Russell Collection of Early Keyboard Instruments. They gave their services unstintingly. Not only were Rhodes and Thomas advisers, they played a major practical part in restoring quite a number of instruments. Particularly John undertook the considerable task in restoring the Faulkner harpsichord to the wonderful condition it is in now, both acoustically and visually.
John was an incredible man, his knowledge was encyclopaedic was it on history, art, literature, chemistry, metallurgy, plastics, geography or natural history. He never, despite this erudition, made any person feel inferior when talking with him. However, he had little time for the pretentious! He was a very articulate, gracious, gentle, yet powerful giant of a man and sadly missed by all who knew him.
-Rudolph Sprinz, 14 February 1993
<![if !supportEmptyParas]> <![endif]><![if !supportEmptyParas]><![endif]>
<![if !supportEmptyParas]> Biography of Bill Thomas<![endif]>
Papers on organology published by Thomas and Rhodes
<![if !supportEmptyParas]> <![endif]><![if !supportEmptyParas]><![endif]>
<![if !supportEmptyParas]> Return to main page of this section<![endif]>
<![if !supportEmptyParas]><![endif]><![if !supportEmptyParas]><![endif]>