Ruckers. A harpsichord and virginal building tradition.
by Grant O'Brien
Paper-back digital reprint by Cambridge University Press, 2008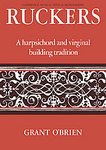 HOW TO MAKE PAYMENT FOR THE DIGITAL REPRINT OF THE BOOK
<![if !supportEmptyParas]> <![endif]>
Please e-mail your order giving the number of copies you require and the dedication you would like Grant O'Brien to inscribe in the book for you to johnny.bell@claviantica.com
He will then work out the total cost including postage and packing and send you an invoice. If you do not want to pay in pounds sterling £ (GBP), please let him know so that he can work out the amount of your payment in your local currency. The invoice will then be made out in your local currency and will include the bank charges listed below. There are two ways that you can make payment:
Send a cheque in pounds sterling £ (GBP) made out to 'Grant O'Brien' for the total amount including postage and packing. If you send a cheque in a currency other than sterling, please note that the following charges will be made by our bank: foreign cheques up to the value of £100.00 are charged at a standard fee of £4.00. Those over £100.00 and up to the value of £2000.00 will be charged at a standard fee of £8.00. We will add the equivalent of these amounts in your local currency to the total costings of the bank charges resulting from the currency conversions.

Make a bank transfer in pounds sterling £ (GBP) of the total amount of your invoice to our Smile Internet Current Account with the following details:
Name of bank: Smile Bank plc, 1 Balloon Street, Manchester M60 4EP, England

Account number: 14380758
Sort code: 089286
IBAN: GB58CPBK08928614380758
BIC: CPBKGB22
The same bank charges as above apply if you transfer money into this account in a foreign currency. Please add the relevant extra amount if you do not make the bank transfer in £(GBP).
When we have received your payment we will send you your signed personal copy of the Ruckers book immediately.
This book is also available from your local bookseller, or directly from Cambridge University Press
and from MSN, Amazon, E-bay, and many others.

Go back to the Ruckers book page