<![if !supportEmptyParas]> <![endif]>
N E W 5 - O C T A V E H A R P S I C H O R D S
I N T H E N E A P O L I T A N S T Y L E
The finished instruments: Instrument number 6
The decoration of this harpsichord is closely based on the decoration of a Neapolitan harpsichord in the Museo Nazionale degli Strumenti Musicali on the Piazza Santa Croce in Gerusalemme in Rome. Although not generally recognised as a Neapolitan instrument, recent research by Grant O'Brien has proved conclusively that the instrument was designed and built using the Neapolitan unit of measurement.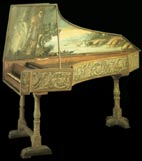 T6
The original inspiration for the decoration of instrument number 6.
See the catalogue by Maria Luisa Cervelli, La Galleria Armonica, (Istituto Poligrafico e Zecca dello Stato, Rome, 1994), Cat. No. 852, pages 327-8
and illustration p. 334.
The decoration of this harpsichord was carried out by Stefano Pessione, copyist and decorative painter, in Rome.
Of all of the instruments that we have sold so far, the decoration of this harpsichord is possibly that which is generally most closely in the style of historical seventeenth and eighteenth Neapolitan harpsichords.
Back to the main section on making the 'Mozart' harpsichords
<![if !supportEmptyParas]> Home page<![endif]>