<![if !supportEmptyParas]> <![endif]>
N E W 5 - O C T A V E H A R P S I C H O R D S
I N T H E N E A P O L I T A N S T Y L E
General Background Information
<![if !supportEmptyParas]>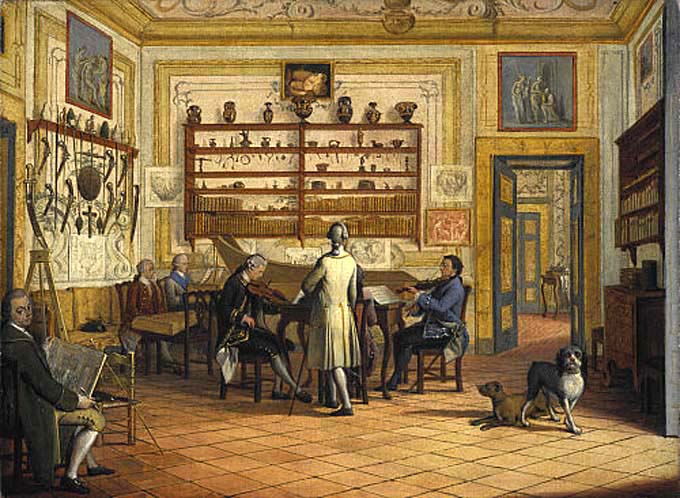 <![endif]>
Painting by Pietro Fabris c. 1770 (Scottish National Portrait Gallery) with the title "Sir William Hamilton entertains his friend the Earl of Seaforth".
This painting shows Mozart at the far left playing an octave spinet, Mozart's father Leopold playing a large (presumably) Neapolitan harpsichord, the Duke of Hamilton playing the violin, the Earl of Seaforth with his back to us, in front of him an unknown musician probably playing the oboe and, at the far right, Gaetano Pugnani playing the violin. The figure at the left is a kind of self-portrait of the artist himself.
On the walls and shelves seen in this painting are the trophies from Pompeii brought back to Scotland by the Earl of Seaforth. Nothing is known of the two dogs!!
The harpsichord in the background being played by Leopold Mozart is the primary inspiration for the construction of these instruments discussed elsewhere in this section.
Return to the main 'Mozart' harpsichord design section
<![if !supportEmptyParas]> Home page<![endif]>