<![if !supportEmptyParas]> <![endif]>

Franco-Flemish double-manual harpsichord,

originally a 'transposing' harpsichord made in Antwerp in 1617 by an unknown maker. It was given a bass ravalement in Paris in 1750 by François Étienne Blanchet and it was later given a treble ravalement in 1786 by Jacques Barberini and Nicolas Hoffmann.

<![if !supportEmptyParas]> <![endif]>

Franco-Flemish harpsichord interior EMBOSSED GILDED JACKRAIL PHOTOGRAPHED WITH A WEB-CAM.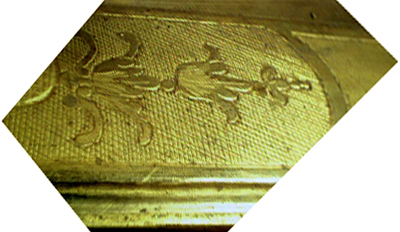 The gilt jackrail re-used inside the instrument as an internal brace!! The photograph here shows the jackrail's top surface which faces towards the treble side of the instrument in its present orientation inside the instrument.
This jackrail may have belonged to the instrument when it had a compass of G1/B1 to d3 in its petit ravalement state before 1750. The length of the jackrail at least has the correct length to have served the apparent initial width of the case before it was widened.
<![if !supportEmptyParas]><![endif]>
<![if !supportEmptyParas]> <![endif]>Return to the secion on the eighteenth-century states of this harpsichord