D R A W I N G S
made by Grant O'Brien
Dominicus Pisaurensis, Venice, c.1550 Polygonal Virginal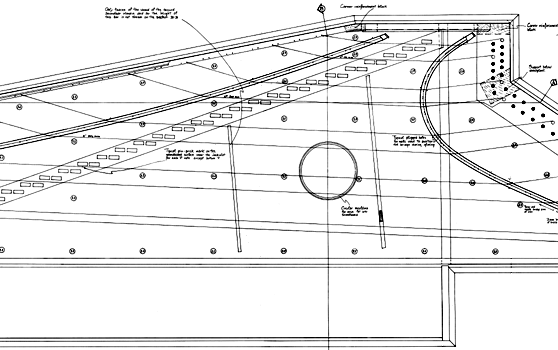 This drawing was made by Andrea di Maio
This is a very interesting virginal which I have attributed to the great Venetian master harpsichord builder, Dominicus Pisaurensis. The assignment to Dominicus Pisaurensis can be made on the basis of the materials used, the use of the Venetian oncia in its design and construction, its string scalings, the mouldings used, etc. According to Denzil Wraight the date of the instrument should be about 1550 based on the use in other Dominicus instruments of similar mouldings to those used here.
Dominicus seems never to have made two instruments the same and was, seemingly, always experimenting with the design and layout of his instruments. This one has an unusual 'extra' side on the right-hand side of the case so that the tuning pins and wrestplank are much closer to the right-hand bridge than is normal in North-Italian virginals. This seems to have been done to avoid the long overlength of string which, in the normal design of virginal, makes tuning difficult since the overlength of string is actually longer than the sounding length. This means that the overlength stretches during tuning allowing the sounding length of string to hold its pitch before the string starts to slide past the bridge pin. This can cause considerable tuning difficulties for those strings where the overlength can exceed the sounding length by as much as 200%.
The instrument has been designed around the f strings which have a length for f1 of 8 Venetian once instead of the more usual 9 Venetian once. Those Venetian instruments with f1 having a length of 9 Venetian once seem clearly to have been designed to sound at a pitch of about R = 415Hz about a semitone below modern concert pitch of A440Hz. Therefore this virginal with f1 having a length of 8 Venetian once must originally have sounded a whole tone higher at R + 2 = 466Hz.
THIS VIRGINAL IS THEREFORE NOT SUITABLE FOR NORMAL 'BAROQUE' PITCH SINCE IT SHOULD BE TUNED A WHOLE TONE HIGHER THAN THIS.
ON THE OTHER HAND:
It is the perfect model to copy for anyone interested in playing at A466Hz at Italian cornett pitch, mezzo punto, or Chorista di Lombardia (see Bruce Haynes, A History of Performing Pitch: The Story of "A" (Oxford: Scarecrow Press, 2002) pages 58-62, 367-369).
Return to the main catalogue of drawings